Web Development
10 Options for Hosting Your Startup Website
As a startup, you are most likely counting your pennies as you read this. Funds only go so far, so your startup website needs to be near the top of the list when you're prioritizing how to use available resources. Even though most local startups don't need a large website, it is the platform that establishes your brand and serves as a main access point for reaching customers.
Being in the startup world, you're always looking for more cost effective ways to run your business. I've listed some of the least expensive ways to host your startup website, taking into consideration cost, platform and business size:
1. Hostwinds.
This VPS hosting service is one of the cheapest host providers you will be able to find. Serving U.S. and UK start-ups and small businesses, Hostwinds is known for their reliability, with a no-downtime guarantee to back that up, plus 24/7 technical support that quickly solves problems through live chat or phone.
Other benefits include unlimited bandwidth and disk space, nightly backups and options that include VPS, shared or dedicated hosting. Prices are as low as $4.50 per month for one domain or $5.50 for up to four domains. For $6.50 per month, you can have a dedicated IP address. In addition to this cheap hosting, you get free stuff like free website and file transfer, free set-up and free domain name. This is a great way for a start-up on a tight budget to get website hosting.
2. Bluehost.
Use this webhosting service if you need a lot of features, such as unlimited domain hosting, GB file transfer, hosting space and email accounts, as well as free templates and domain name, all under one account (domain).
This is a go-to website hosting partner for quick access to live chat and phone support from technical wizards. It offers a helpful demo account, so you can learn how the control panel works in advance manage your website. There are multiple security tools, such as admin password protection, a secure FTP, daily server backups and shared and dedicated SSL certificates, to keep information safe.
The icing on this web hosting cake is that it offers free ecommerce and shopping cart applications for retail start-ups, as well as CMS software, WordPress and survey software. Of note is the fact that it is one of the very few companies that do not give you an uptime guarantee or a catchall email. Annual fees include a domain migration fee of $14.99, a domain name fee of $14.99, and shared annual hosting of $47.40-$179.40, with no set-up costs.
Related: Online Startup Makes Website Editing Simple
3. FatCow.
This simple, straightforward, eco-friendly web hosting company uses wind power to run its operations and features a knowledgeable and friendly team. The web hosting does not limit how many domains, subdomains, add-on domains or parked domains you can host from one account. High-quality technical support comes from the "Moo Crew" by phone, live chat and email, or you can select from their knowledge library of video tutorials, articles, and FAQs if you want to take the DIY approach to technical issues.
FatCow is ideal for those who need strong email tools, including a catchall email account and ways to set up email aliases and auto-responders. Value-adds include credits toward Google AdWords, Facebook, advertising and Bing/Yahoo! Search marketing, as well as a free YellowPages.com listing.
Minimal downsides are evident but do include only shared hosting capability and shared SSL certificate, as well as no cPanel. The annual shared hosting fee is $49 plus $14.99 for domain migration, but no fee for domain name or set-up.
4. A Small Orange.
This web hosting company offers many shared plans, including the Tiny plan for small startups, the Medium for the average size business and the Super for more complex websites. They also offer a VPS or dedicated hosting plan for even more room.
The website hosting company has numerous types of hosting services, unlimited email addresses and Web applications like blog apps, CMS software, forum or calendar functionality, tools for educational and retail websites, survey tools and wikis. The only downsides are a somewhat limited bandwidth and disk space across all plans, and no ability to create mobile websites. Costs for shared annual hosting range from $35 to $240 as well as $15 for domain migration and $14.55 for domain name.
5. 1&1.
This website company is known for its security strength, focusing on serving companies that want to sell products online. Features include a webspace recovery tool, daily backups, shared and dedicated SSLs. They also offer SiteLock for an additional fee for regular malware scans or signs of suspicious activity.
With unlimited bandwidth and disk space, this website host provides scalable solutions that grow as your start-up expands. Numerous website hosting plans mean there is something for every type of start-up and budget. The company also offers additional marketing value for the money with credits for Google AdWords, Facebook, Bing and Yahoo! There is a free ecommerce and shopping care software, plus an email marketing tool for email blasts and newsletters.
Just note that they do not offer live chat for tech support but only are available through email, phone and social media. Prices range from $23.99 to $179.88 per year for webhosting and $0.99 for the first year of a domain name but no fees for domain migration or set-up.
6. GreenGeeks.
Like many web hosting companies on this list, this one is committed to environmentally friendly webhosting, opting for renewable energy sources to power its operations.
It's good to go with a host provider that offers unlimited hosting right out the gate, so you can grow your website down the line with more domains and any number of subdomains, add-ons or parked domains. GreenGeeks offers many starter websites that come with email accounts and search directory listings. This is great for start-ups that don't have a website and want to quickly get online status without waiting to design a site.
The company also goes easy on the fees, with no costs for set-up, domain migration or domain name. The only costs are annual shared hosting fees of $47.92 to $95.40. The only downsides are the lack of 24/7 phone support, no email management through a control panel and the inability to host mobile websites.
Related: Putting a Face to Your Startup's Website
7. Hostgator.
This website hosting company provides a significant level of confidence, thanks to all-access tech support through email, phone, social media and live chat. They also have numerous resources and a forum to get additional help.
While many companies give you a 30-day money-back guarantee, Hostgator gives you another 15 days on top of that to decide if you want to cancel your hosting service. To design your website, they give you thousands of templates and customizable tools, as well as access to an array of open-source applications for content management, e-commerce, wiki, and blogging. They offer unlimited email addresses and numerous email tools, as well as free site builder and control panel demos.
They only do weekly server backups, so if you are updating content daily, this may be an issue. They also do not offer cloud hosting. Some fees are involved, including $7.95 per year for domain migration and $12.95 for domain name, while annual shared hosting costs range from $66.72 to $143.52.
8. InMotion Hosting.
Starting with 99.9% uptime guarantee, you can feel at ease knowing this website hosting company will be working for you around the clock. Other great features include WordPress web hosting, private domain registration, cPanel demonstrations and dedicated SSL certificates. However, there is a limit of 25 domains for its top plan, and no cloud or reseller hosting.
They do not charge fees for domain name, domain migration, or set-up. Annual costs for shared hosting range from $56.68 to $125.88. Teachers can get free web hosting as an educator, while students can get 50 percent discount off shared web hosting.
9. iPage.
This website hosting company delivers many unlimited features and value-adds, plus it regularly puts its shared hosting services on sale, such as its current promotion of $1.99 per month or $23.88 per year. The only additional fee is $14.99 for the first year of a domain name, but set-up and domain migration are free.
You get unlimited domains, add-on domains, parked domains and subdomains. Value-adds include many types of advertising credits and a free listing on YellowPages.com. There is 24/7 tech support, shared and dedicated SSL certificates, a cPanel for easy management, and user-friendly website design tools. However, you cannot register private domains.
10. Hostt.
While it may seem like free website hosting is impossible, Hostt proves it is anything but. Rather than just offering a stripped-down webhosting service for just the very basics, Hostt offers many extras. These include free WordPress and free Joomla hosting, as well as support for Ruby, Python, Apache, Lighttpd, Mongrel and Visual Studio.
There are an unlimited number of domains allowed, along with free transfer from an existing website and unlimited bandwidth. You also enjoy one-click installation, 24/7 technical support and full control over your server and website. About the only annual charge is $13.95 to register your existing domain with them. Special note: I used to be involved full time with this business, hence me putting them at the last.
With the pros and cons and range of prices and fees, features and services, this list illustrates that there is some type of website hosting solution for every type of start-up.
Contributor – John Rampton  June 12, 2015
*********************************************************************************
5 Secrets for Creating an Award-Winning Website
Image credit: Shutterstock.com
Among the major tenets of web design, five include: appearance, usability, content, feature functionality, and standards compliance. An award-winning website must be visually-stunning, easy to navigate, seamless to use, without bugs, and filled with information worth consuming.
Throughout my career, I've worked with several designers to build dozens of different websites and noticed a few common things they did to produce work people raved about. Here are 5 of their best-kept secrets.
1. Utilize white space.
To audiences, a website should come across as sleek, sophisticated and user-friendly. Thus, you should intentionally and strategically utilize white space throughout your site to highlight key elements of each page and make the content pop.
White space, which refers to the blank spaces in and around various elements on the webpage, not only elicits a feeling of elegance and enhances your brand positioning but also, according to a study by Wichita State University, improves reading comprehension. A few other great websites that effectively use white space are Squarespace, Medium, and everyone's favorite search engine.
As a result of this approach, you can cultivate a minimalist design aesthetic and showcase beautiful graphics, which your customers will love. Having a cluttered homepage may cause users to feel overwhelmed and confused, so having a simply designed website with plenty of white space will encourage your audience to stay and explore it.
2. Streamline navigation.
To enhance the usability of your website, make navigation as easy as possible. Make sure your products are easily accessible on the homepage, and the navigation bar is conspicuous and intuitive to use on both desktop and mobile platforms.
One way to test whether your site's usability is top-notch is to see if it passes the three-second rule of the web. Concocted by web designers in the 1990s and now widely-accepted throughout the design community, the three-second rule dictates that your website should capture your visitor's attention in about three seconds. If it takes longer than that for a visitor to become invested, then you will effectively lose them.
To ensure your website passes the test, make all text as clear and easily understood as possible, only showcase a few quality graphics on each page, and try to guide your readers' eyes towards the most searched-for information. Also, try test driving your website with friends and family to see how long it takes them to interact with different elements of the site and accomplish simple tasks.
3. Engage visitors with customer reviews or exclusive offers.
No one likes running into a wall of text or a barrage of never ending pictures when first landing on a site. So, make sure to apply the 3 second rule to your content as well to enhance clarity, organization, and conversion.
If you are running an e-commerce website, for example, it may be wise to showcase a few quality quotes from positive customer reviews as well as one or two special deals, coupon codes or promotions. That way, your readers will immediately have extra incentives to take the next step and purchase your product.
4. Prioritize speed and simplicity.
One often overlooked aspect when assessing feature functionality is speed. For ecommerce websites especially, having slow page load times or issues with the website on mobile devices can lead to having a low conversion rate and even experiencing an overall reduction in overall corporate revenues. A study by Akamai found that 40 percent of online shoppers will abandon a web page if it takes more than three seconds to load, and 52 percent of respondents say quick page loads are important for their loyalty to a site. The easiest way to prioritize speed would be to get your engineers working on it, but if you want to try it for yourself, here are a few tips that may be helpful.
Additionally, having a straightforward, short checkout process is key to increasing conversion. The simpler your checkout process is, the easier your customers will be able to purchase your product without headaches or complications. Amazon, for example, offers one-click purchasing to complement their already streamlined checkout process.
5. Incorporate responsive design.
To exceed expectations in the area of standards compliance, employ responsive design. Responsive design allows content and design to be viewed from any screen, including mobile devices, e-readers, and computers.
Contributor – Firas Kittaneh June 04, 2015
*********************************************************************************
How to Create an Online Store in Minutes with WordPress Simple Paypal Shopping Cart
WordPress has become well known as a platform that has great eCommerce support. I have tested dozens of WordPress plugins that allow you to turn your website into a fully functional online store
Many eCommerce plugins are sometimes overcomplicated due to the number of features they include, however there are simpler solutions available. One of the best solutions for selling products through a WordPress website is WordPress Simple Paypal Shopping Cart.
As the name suggests, WordPress Simple Paypal Shopping Cart aims to make the process of selling products on your website easier. The plugin does not require you to use a special WordPress theme in order to display your products. Nor does it ask you to modify all of your WordPress theme templates. All you have to do to build your store is add one or two short codes to your pages. That is all there is to it.
Let us take a closer look at how you can use WordPress Simple Paypal Shopping Cart to sell products on your website.
Creating Your Store
After activating the plugin, you will see an options page for the plugin added to your settings area. It soon becomes apparent how straight forward WordPress Simple Paypal Shopping Cart is to use.
The quick guide highlights that there are two short codes. To add an item to a page, all you do is use the wp_cart_button short code and specify the product name and product price. When a customer adds the item, it will be added to their shopping cart.
Next, you need to create a shopping cart page. To display a customer's shopping cart, all you have to do is enter the show_wp_shopping_cart short code into a page. That's it. You simply use one short code for adding items to the cart and another to display the cart itself. The customer can proceed to PayPal and pay for the items via the shopping cart page.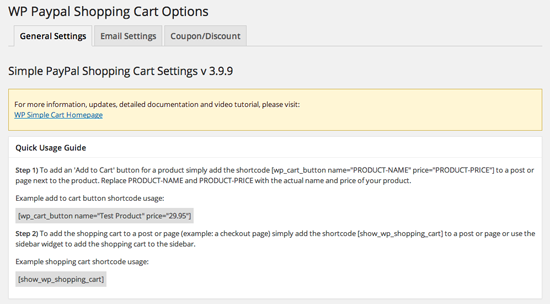 The beauty of using short codes is that you can promote your items wherever you want. You are not restricted to a certain format. In other shopping solutions, you need to send customers to your sales page or to the home page of your online shop, but with this plugin you can simply insert the "Add to Cart" button in any post or page.
The plugin is obviously simple by design, however there are still many settings that you can configure. The general settings area allows you to define PayPal settings such as the currency items are sold in and the shipping cost for items. You can also add a note to sellers and there is an integration option for the WP Affiliate Platform plugin.
The plugin includes a useful PayPal's sandbox testing mode that allows you to test that your shopping cart is working correctly.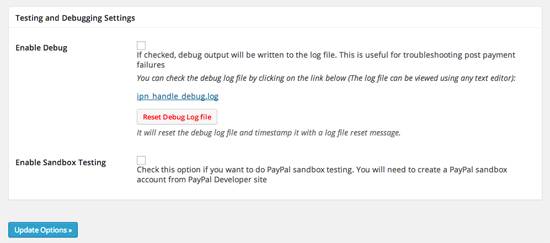 The email that is sent to the buyer after purchase can be modified via the settings area. Their name and product details can be inserted into the email directly.
You can also send a notification email to yourself whenever someone purchases a product from you. Multiple people can have a notification email sent to them, which is useful if you run a store with a partner.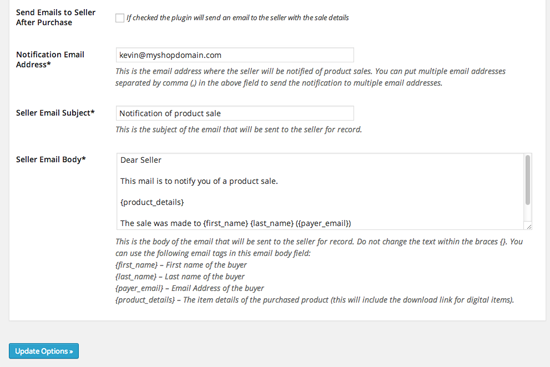 WordPress Simple Paypal Shopping Cart also supports coupons. These can be assigned through the settings area. Coupons are particularly useful for running competitions on your website and offering discounts and special deals.
Unfortunately, there is not currently an option to expire a coupon after a specific date or after a specified number of uses.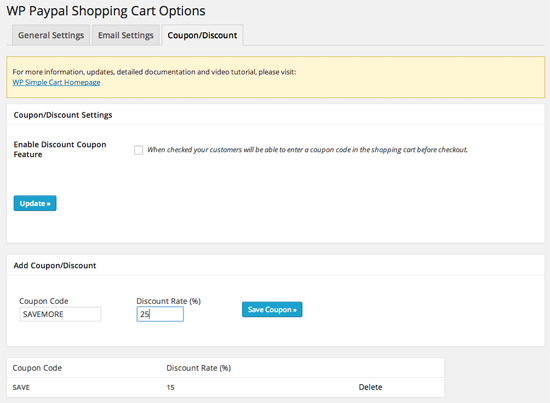 The cart orders page displays a history of all the purchases that have been made in the past. There is also an option to place a new order manually through the settings area. This is useful if a customer has sent you payment through a different payment method, or if you were offering an item free through a competition and want to keep track of the delivery.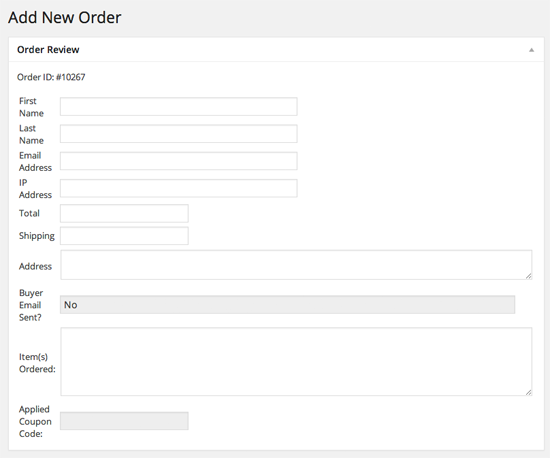 Once you have checked that your store is working correctly, you will not need to return to the settings area unless you want to modify the way things way.
A Little Plugin with Lots of Features
WordPress Simple Paypal Shopping Cart is not as advanced as other eCommerce solutions, but it still has a lot of great features.
It has native support for WordPress Multisite and it can be used to show product image thumbnails. Ten languages are also supported.
The plugin can be used to sell tangible products or intangible products such as services and digital files such as eBooks, PDF's and audio files.
To get a better feel for what WordPress Simple Paypal Shopping Cart can do, please check out the video below.
Overview
If you are looking for a simple way of selling products and services through your website, I recommend checking out WordPress Simple Paypal Shopping Cart. It is not the most advanced eCommerce solution available, however it is not trying to be either. The plugin was specifically designed to be easy to use and easy to administrate and it does not require you to change the structure of your website.
I hope you have enjoyed this look at WordPress Simple Paypal Shopping Cart. To find out more about the plugin, please visit the plugin description page.
Last updated: July 16, 2014 by Kevin Muldoon